<!img src="images/italia2.gif" alt="Versione Italiana" border=0 align=right>
Domino Puzzle
Many centuries ago the ancient Arabs invented the game of the 28 Dominoes. I propose today this contiguous conditions puzzle. You could play on the 8x7 rectangle. You could use ancient tiles or Windows Paint. Below there are the rules.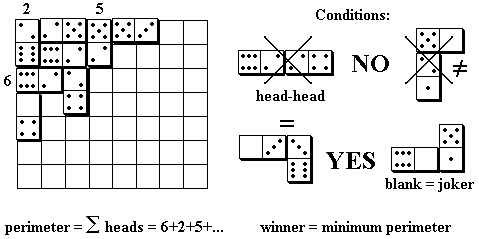 The puzzle has solutions. I checked it. I ask you to find the solution which has the smallest perimeter, defined as the sum of peripheral heads.
Send your solution here.
_________________________
July 2001 - Alessandro Fogliati surprises me with this solution: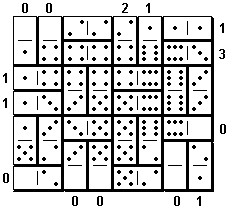 Perimeter = 10
We have demonstrated by the Gerard's Polyomino Solution Engine that the 5 solutions below are the only possible solutions without head-head conjunctions.

_________________________
New challenge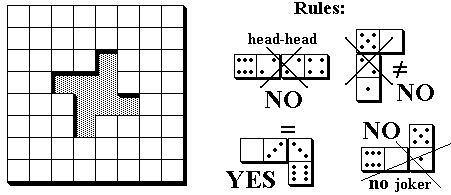 Cover this chessboard by the 28 Domino pieces, with these new rules (no joker!).
It isn't trivial.
1st edition: Apr 16yh, 2000 - Last revision: Aug 14th, 2001

| HOME |
| e-mail | Download | Links | Chronicle |

| PENTOMINOES |
| More about pentominoes | The cube | 3D pentominoes | Maximizing |

| POLYSEXES |
| Sexominoes | Xominoes | Zucca's Puzzle | Domino Puzzle | SexCubes | Dodecaculeus | Tubominoes |

| SEXEHEXES |
| SexeHexeS For Sale | More about SexeHexeS | How we did it | Other Sexehex Puzzle | My Solution | Reproduction |

| POLYMULTIFORMS |
| Aug 2000 edition | May 2000 edition | PolyEdges | To cover a solid | Fourier Series of a Square | Order 13 Perfect Square | Fibonacci Machine |